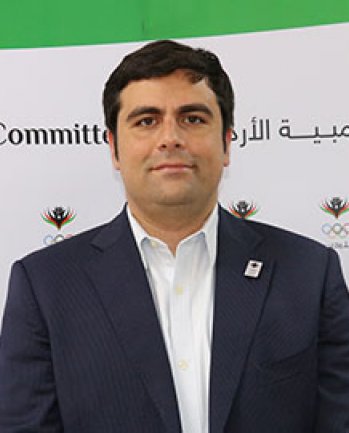 Mr. Nasser Majali
Secretary General
Nasser Majali was appointed as the Secretary General to the Jordan Olympic Committee (JOC) in October 2016 by its President, HRH Prince Feisal Al Hussein.
His appointment was part of building a new era for sport in the Hashemite Kingdom by sparking a range of ambitious developments that have helped to transform Jordan's sport sector.
Nasser, 39, has directed the implementation of HRH Prince Feisal's vision for the JOC to become one of the world's leading National Olympic Committees responsible for the management, funding and growth of sport.
This has included the creation of Jordan's first National Strategy for Sport and the opening of a state-of-the-art Olympic Preparation Centre in Amman, which have both made a huge positive impact on Jordan's sports.
Nasser joined the JOC following an extensive business and management career in both education and practice over the previous 18 years. He has worked across multiple sectors including IT, Trading, Financial Services and NGOs.
After graduating from the University of Michigan in Ann Arbor with a BA in Economics and Political Science in 2001, he obtained his MBA from the American University of Beirut in 2006.
He is currently pursuing his second Masters Degree in Olympic Studies from the German Sport University Cologne.
He is trained and experienced in Project Management, Change Management, Monitoring & Evaluation, Media and Communications.
With a proven track record in Entrepreneurship and Management, Nasser has successfully established and managed a number of companies and organisations since 2006. He has also been a board member in multiple companies as well as non-profit organisations over the past decade.
Throughout his professional career, Nasser maintained a strong passion for sport by participating in a number of team sports including football, softball and basketball. He is also an expert skier.
Nasser is currently a member of the IOC Marketing Commission, Executive Board member in the Islamic Solidarity Sport Federation, and member of the Sport Commission in the Olympic Council of Asia.
Away from his professional life, Nasser is a keen photographer having had his work displayed at a number of exhibitions and he has volunteered his photography services to numerous sporting and non-sporting organisations.
He is married with two children, a boy and a girl.