JOC Award For Scientific Research
JOC Award For Scientific Research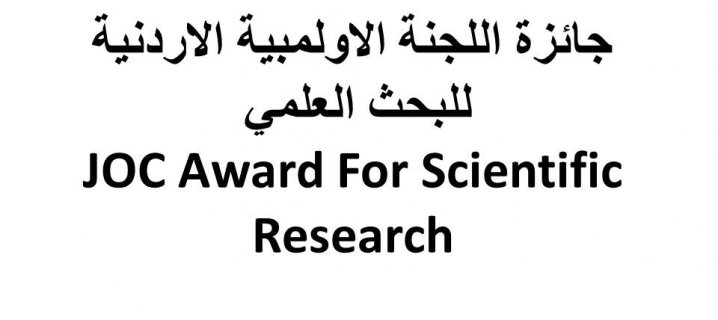 JOC Award For Scientific Research
About the award
The Jordan Olympic Committee (JOC) Scientific Research Award is to encourage and motivate Jordanians to source appropriate research that could improve Olympic sports. The top three pieces of research annually will be rewarded.
The Awards
All submitted research will be evaluated with the top three awards as follows:
First: 10,000 JD and trophy
Second: 6,000 JD and trophy
Third: 4,000 JD and trophy
Awards General Conditions
Applicants must be Jordanian
Age not to exceed 70 at the time of applying
Not be a member of the Awards' technical committee
Educational background not less than bachelor degree
Winner cannot apply again for two years
Applicants should not have an unethical sporting history
Awards' Technical Conditions
The research should not have been published or presented before any organization previously
The researcher should apply in Arabic and English
The research paper not to exceed 30 pages
The research should meet the following subjects:


Development of the National teams performance
Development of Olympic Sports federations performance

The application will not be considered if it contains incorrect information and, if discovered later on, the award will be taken back
The research should be applicable
The research should be in one of the recognized Olympic sports
Researchers should not apply for another award at the same time
The research should not have been awarded before
10. The research can be presented personally, as a team or by an organization
11. The research shouldn't be from another master degree research or from any other research conducted
12. All papers and documents are owned by the awards organizers
13. Publishing rights are reserved for the JOC
14. If the winner wants to publish his research for scientific purpose, he/she must have approval from JOC
How to apply
Researcher must apply his own research with no more than four pages
Acceptance of the research does not commit the award's board to any financial commitments
Receiving the research should is not a note of final acceptance
4. Researcher can apply his research directly without applying the research proposal
Researchers should fill in the form on www.joc.jo and attach CV(s) before emailing to joc.award@joc.jo.
How to choose the winner
The research should:
Be distinguished and add new value to the sport movement
Seek to improve athletes in different Olympic sports
Be original and not copied from other sources
Be creative
Raise the levels of innovation
Not conflict morals and human values
The Committee has the right to stop any research that does not meet any of the Award criteria
The committee has the rights to give the award for two winners if they choose
The awards' Timeline
Candidate can apply from 1st of November till 30th of January each year
The evaluation will carry on from 15th of February till 15th of April
Announcing on the awards and winner will be at the Ceremony of the Olympic Day