FINAL BRIEFING FOR WORLD GAMES HEROES

Jul 16, 2017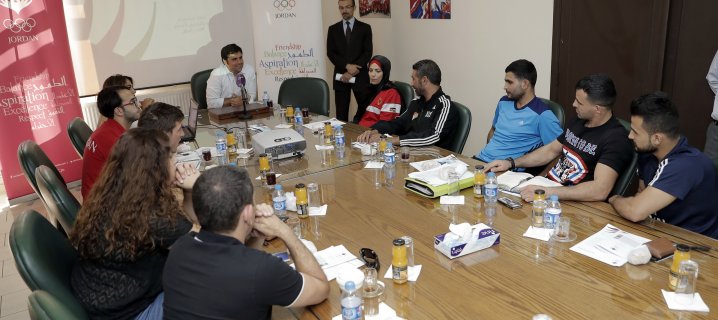 The five athletes bidding to make history at the World Games in Poland later this month have received their final briefing from the Jordan Olympic Committee (JOC).
Lama Qubbaj and Haidar Rasheed (Jujitsu), Bara'a Al Abbsi and Ali Khalaf (Kickboxing) and Mohammad Salameh (MuayThai) have all qualified through tough competitions to book their place at what is considered one of the biggest multi-sport events outside of the Olympics.
They were briefed by JOC Secretary General, Nasser Majali, who wished the athletes and their coaches well and relayed the greetings of JOC President, HRH Prince Feisal Al Hussein.
They were urged to compete in the spirit of Olympism and to make a good name for themselves that will reflect positively on Jordan.
"These athletes have gone through an extremely tough qualifying procedure to reach the World Games, which are an important event because it includes sports not included on the Olympic programme," said Majali.
"The five athletes show just how much sport has developed in Jordan and how much our athletes have been improving themselves.
On behalf of the Jordan sporting community I wish you all the best."
The delegation will be headed by Bandar Al Sahen (Chef De Mission); Dr. Khalid Zaiden (doctor); and coaches Sami Al Jamal (Ju-Jitsu), Issa Abu Nassar (Kickboxing) and Yaser Abu Safieh (Muay Thai).